News
Our Editio Vinifera Cuvée Devín 2015 awarded with SILVER MEDAL at the prestigious international wine competition in Paris - Vinalies Internationales 2017!
More details about this wine in the Gallery (Galéria vín).
More photos:
Great news form Paris:
Our Editio Vinifera Cuvée Pinot Tradition 2014 among 1000 best wines according to "1000 vins du Monde".
More photos: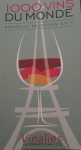 CUVÉE DEVÍN 2015 recently launched!!!
A unique product of the limited edition Editio Vinifera, this time in cooperation with Karpatská perla (Devín) and VPS - Vinohradníctvo a vinárstvo Pavelka a sun (Tramín & Pálava).
Bacchus de Plata - Silver medals for Editio Vinifera Cuvée Pinot Tradition 2014 and for recently launched Cuvée Nitria rosé 2015 at renowned wine competition Bacchus Madrid 2016!
VINALIES D'OR - GOLD MEDAL for our Editio Vinifera Cuvée Pinot Tradition 2014 at the prestigious wine competition Vinalies Internationales Paris 2016!
The product line Editio vinifera relaunching new wines.
On sale in selected wine-boutiques and restaurants.
New releases of our boutique product range EDITIO VINIFERA:
Cuvée Pinot Tradition - the project continues launching the vintage 2014
Cuvée Nitri

a - product relaunch: new blend

composition

with more NITRIA

Premium Cuvée MIRUS 2013 - our project with Chateau Belá

Available after 1st November 2015

2% of the sales value destinated to support creative activities of mentally challenged people
More photos:
Editio Vinifera Cuvée Pinot Tradition & Cuvée Devín awarded Gold Medals at Prague Wine Trophy!
EDITIO VINIFERA CUVÉE PINOT TRADITION 2013 "DECORATED WITH "BACCHUS DE ORO"
Our white Editio Vinifera Cuvée Tradition awarded Gold medal at Bacchus Madrid 2015 International White Competition!
This year, as usually, we will take part in the wine fair Vinum Laugaricio Trenčín (Expocenter exhibition center). We'll be there on the 4th - 5th December 2014, from 1 to 9 pm. Come and taste the wines of our new Slovak product line Editio Vinifera and the famous Spanish wines of our portfolio: new vintages and older ones, mature and beautiful.
More photos:
Charity fundraising in Trenčín - charity auction of rare wines for mentally challenged. Our Cuvée Nitria, bottle N°1 of the viniferous edition Editio Vinifera sold for 130,- eur:-)
PRODUCT LAUNCH: NEW PRODUCT LINE: EDITIO VINIFERA
The first wines of this viniferous edition launched right now are:
- red Cuvée Nitria
- white Cuvée Pinot Tradition and Cuvée Devín
More photos:
More photos: